Jack's Male Tickling Rack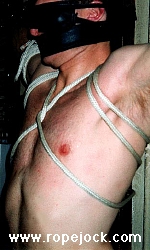 Introduction
---
Yup. Guys tickling guys.

If you are interested, read on:
PURPOSE OF THIS SITE:
To present a curated archive of stories and articles, by a variety of talented authors, relating to the more intense aspects of M/M bondage and tickle torture.


RACK?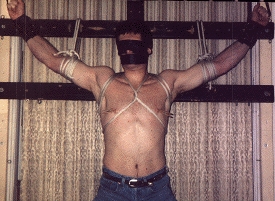 Yes, "Rack" as in "Magazine Rack", since this site is mainly dedicated to presenting stories and articles.

And, "Rack" as in "Bondage Rack", a stationary frame made of 2x4's, basis for lots of other restraint equipment, and to which I love to tie guys for some heavy tickle torture.

The guy tied to the rack in the above picture is one of many buddies who keep stopping by my playroom to test their mettle.




WHY?


I was frustrated by the absence of a really good, free, stable M/M Tickling story archive which contained the types of stories that I like to read. Being somewhat of an author myself, I was also appalled at the lack of care and credit given to some of the great stories that have been posted on the Net for years. I had the idea of starting a story collection, giving proper credit to the authors, making it easy to contact them, and presenting their stories in complete versions.

I have met a lot of great guys so far through this scene, and have received a lot of satisfaction and stimulation from the writings of others.

I wanted to try to give something back to the M/M tickling community.





ABOUT THE CONTENTS:


THE AUTHORS -
Many thanks to all of the terrific authors who have granted permission for their stories to be posted on this site. They are a great bunch, knowledgeable, generous, and extremely talented.

If you enjoy their work, the authors would love to hear from you.
Their e-mail addresses, along with their names, are printed at the beginning and end of each story. The addresses are hot-links, so you can just click and write an e-mail.

In a couple of cases, the authors have requested that their e-mail addresses not be posted with their stories, and I have respected their wishes.

Thanks also to the following buddies who have granted me access to their considerable electronic archives and hardcopy files:



FingrFethr
TickleBoss
Alfonso
J.P.
Wolf
Patrick Colby
Pete_Roc



and all you authors who have dug through old boxes to find your stories, or have taken the time and effort to transcribe them electronically.

PERMISSIONS -
I have done my best to acquire permission to post all of the stories and articles which appear on this site. In a few instances, I have not been able to determine the author's name, or they are currently unreachable.

If YOU are the author of any story on this site, and you wish to have it removed or properly credited, please drop me at line at:
webmaster@ropejock.com and I will take immediate action.

All of the stories posted on this site are copyrighted by and/or are the intellectual property of the individual authors. They may not be re-posted or otherwise published without explicit permission.


AUTHOR SEARCH -
Please help identify the authors of unaccredited stories!
If you know who wrote any of the stories listed as "Author Unknown", please drop me an e-mail and I will credit them properly.


CONTENT -
The stories collected and presented here reflect my own personal interest in M/M bondage and tickle torture. Unlike some of my buddies, I am not into "soft and fuzzy" or the more sensual aspects of tickling, or tickling without bondage, so you will not find much of that kind of stuff here.

If you don't think you will enjoy this kind of material, don't stay here. Go to my "Links" page and try some other sites, or just leave quietly right now and you won't get hurt.


IMAGES -
If you are merely into looking at tickling pics, you will be disappointed here.
I am much more interested in playing in person, and sharing ideas and stories, than I am into looking at or trading pictures. Therefore, this site will not contain many pics.
The few images that are featured here were all taken in my NYC playroom, with the full cooperation of the guys involved, unless they are otherwise credited.
They are mainly bondage pictures.
I don't take many "tickling" pics.
My hands are usually too busy.
Use your imagination about what went on after the guys were tied up.
I ask that you do not copy and send these pics all over the Net. If you have friends who might enjoy them, please send them the URL for this site.

There are many other sites devoted to pics of male feet and tickling. Check out the "Links" page for a few of them.





TICKLING WITHOUT SEX?


This site is for ALL guys, gay or straight.

I am constantly amazed at the number of people who cannot accept the fact that tickling between two guys does not have to be sexual in nature.

I am a big supporter (and practitioner) of M/M bondage and tickling without sex.

Sometimes, there is a fine line between what constitutes having sex and just horsing around with a buddy.

A lot of the stories on this site contain at least some genital tickling, if not outright forced j/o or orgasm control. If you are squeamish about reading this type of story, just steer clear. In the introductions to the stories, I have tried to alert you to the ones that contain some sexual interaction. But jeez, if you are so uptight that you are gonna freak at a little cock-and-ball tickling, you should probably go visit some other website.

There are a lot of terrific stories here about sexual teasing and torture, or turning a straight guy on to the bondage and tickling scene. Just playing with a guy doesn't turn a guy gay.

However, if you are straight, and not interested in M/M sex, you will also find a lot of great stories here that won't offend you.

Many of my own tickling experiences have involved getting together with straight or bisexual guys. I hit it off especially well with "tough jock" or military types, or some of my former roommates, who usually just want to test their mettle, or see how much they can take before they "break".

So, whatever your persuasion is, you are welcome here. Just be cool, and we'll all get along fine.




SUBMIT!


Throughout this site, I repeatedly call for submissions from you guys. I would like to keep adding content to this site, and your help is needed and appreciated. All contributions will be properly acknowledged, unless you wish to remain anonymous.

However, please nose around the site and get an idea of the type of stuff that is here. If you happen to submit contributions that do not go along with the general theme and flavor of this site, I may request that you post them elsewhere.




WHAT'S NEXT?



Preserving hardcopy stories from the pre-Internet days. There are tons of great M/M tickling stories that do not exist electronically. Many are from the old "circle" from the '80's. I was on the outer fringe of the circle (alright, I contributed ONE story that got passed around. So shoot me. But I got to correspond with many of you guys.) A few of us have these old stories stored in boxes, as Xeroxed copies that were passed around and traded. Now that I know how to OCR a typewritten page, I would like to obtain as many of these older stories as possible. It's sometimes frustrating, tracking down the original authors for permissions, but hey, it seems that just about everyone shows up on the Net eventually. What do you say? Can anyone help with this?


---
www.ropejock.com