WELCOME
to
Jack's Male Tickling Rack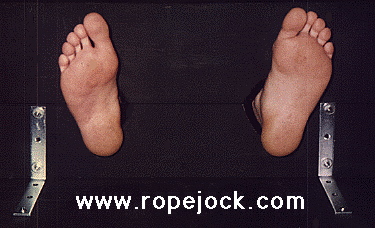 If you are interested in

the more Intense aspects of

M/M Bondage and Tickle Torture

and you are of legal age

in your area (18+ please)...

come in and take a look around.



What's Inside?

A curated archive of
M/M Tickling Stories
and articles by a variety
of talented authors

A few Pictures of
guys all tied up
and going . . . nowhere

Places where YOU can contribute
and post your own stuff,
including Personal Ads




NOTICE:
This is not a "sex" site;
there is no pornography here.
There is, however, some "Adult Content",
including a few fictional narratives depicting
some sexual acts between men.

If you are not adult enough to view material involving
men restraining and tickling other men,
and some possible sexual situations, well...

GET OUTTA HERE.




Straight Guys
Gay Guys
Jocks
Jarheads
Flyboys
White Collar Guys
Blue Collar Guys
Regular Guys...
ALL guys who are
TICKLISH
or who like to
TICKLE
are welcome to:

ENTER JACK'S RACK


---
This site made its debut on June 23, 1998
---
Copyright Notice:

The images and stories by "Jack" on this site are
copyright ©1998 by Ropejock/NYC.

The other stories and articles are copyrighted
and/or are the intellectual property of
their respective authors.

The contents of these pages may not be re-posted or
otherwise published without consent of the authors.

Please do not re-post or send the images to anyone.
If you have friends who might enjoy the stories or images,
please forward the URL to this site.
---
Please Bookmark the main page only. The URL is:
https://www.ropejock.com
---
Problems? E-mail to: webmaster@ropejock.com