Jack's Male Tickling Rack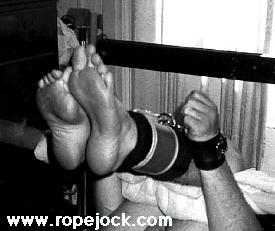 Clinical
Tickling
---
There is a deep and widespread fear and fascination in being restrained and "examined" in a doctor's office or other sterile, clinical setting.

The helpless, unprotected feeling brought on by the surroundings and the equipment, coupled with a doctor or other technician taking advantage of your condition, is a very potent fantasy.

Here are some excellent stories that take place in doctors' offices, clinics, institutes or asylums:
The original M/M version of this classic story. A very ticklish student reluctantly agrees to participate in a paid experiment at the Kinsey Institute of Behavioral Sciences. Uh oh.



A jock's itchy foot needs treatment, and gets it.



A cash-poor undergraduate answers an ad to be a paid guinea pig in some unusual experiments at the college medical lab.



A cocky jock, a broken ankle, a partial cast, and a doctor with a devilish bedside manner.



Todd pays a visit to Dr. Chang, and flunks his "tickle exam".



A bizarre piece of Sci-Fic. College student Thom volunteers at the Science Lab for a paid experiment. Includes shrinking, foot action, and multiple forced orgasms. Not for all tastes.



Men who commit crimes are taken to an island for punishment. They are put through inspections and into sexual service rooms. A continuing saga, which includes heavy bondage, tickling, "denial" torture, milking, and some anal play. (Be sure to check out the automatic tickling device applied to Officer Maloney in "Heat Transfer".)



A med student who is fed up with his hot-headed roommate's attitude takes some action. The medical lab, a plaster cast, and some judicious tickling help in the roommate's "attitude adjustment".



College wrestler Timmy needs a certificate of fitness to take his place on the wrestling team. When the doctor finds out that Timmy is horribly ticklish, Timmy must also pass a "ticklish test", or he won't get the certificate. This is the first story in the infamous "Timmy Trilogy" by Pete_Roc, which follows poor Timmy through one hellishly ticklish day. The other stories in the series, "A Good Fit" and "Circles" will be posted on The Rack in the future.



A mental institution is the setting for a bizarre tickling escapade.
---
If you enjoy the authors' work, drop them a line.
They would love to hear from you!
---
e-mail: webmaster@ropejock.com
www.ropejock.com