Jack's Male Tickling Rack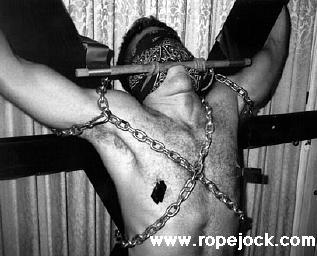 Punishment Tickling
---
Now, here's a subject that really gets my nut.

The use of tickle torture as a punishment for some crime or transgression has always fascinated me.

As opposed to "revenge tickling", which is usually a more personal form of payback, "punishment tickling" can be more ritualized and structured, and often takes place with a crowd, or at least a few people, observing or participating.

Here are some great stories that use bondage and tickling as a sometimes very severe punishment:
The headmaster of an experimental correctional school for boys has some "persuasive" ideas for punishing troublemakers. The defiant, masculine Vinny, continually breaking the rules, must be punished. And punished. And punished. A classic story of creative bondage and disciplinary tickling.



Another excellent fraternity escapade, to give you straight guys something to think about. Ticklish fratboy Skip must participate in a frat house ritual by getting his chest shaved and an "H" painted on it for the big football game. When he can't hold still for the paint job, and he starts sporting wood, his frat brothers, including one particularly sadistic "painter", hold him down and punish him for being such a wimp. He shoots...but he doesn't score.



A great locker room gang-up story: When a cocky high school wrestler is caught smoking by his ex-Marine coach, he suffers through some extreme tickle torture. Let the punishment fit the crime.



As punishment for being a bad "slave", the desperately ticklish Ben is forced by his Master, Roger, to accompany him to a bar wearing a T-Shirt that reads, "TICKLISH". The bait is snapped up when another patron, Frank, is aroused by stories of Ben's ticklishness, and offers to assist with his punishment. (Formerly known as "Tickle Slave", this is the rewritten version.)



During a drunken camping trip, two high school jock buddies pay the price for littering on private property.



A three-part series of "letters" to the fictitious "Mangame" magazine relate the incredibly hot and vivid experiences of a hunky tickle sadist and his victims. The final, unpublished letter is being coerced out of one of the victims: two guys are holding him captive to undergo severe tickle punishment, humiliation and orgasm denial "games".



Sixteen year-old country boy Harney is caught poaching deer on private property. Instead of turning him in, Jim and his two randy sons take Harney back to their secluded house for some tickle punishment he will NEVER forget.



High-strung college student Will stumbles upon a "History of Torture" book, which gives him bad dreams. His three elaborate nightmares cast him as three different heretics in historical settings, undergoing distinctively cruel and unusual tickle punishments. A classic, well-written story.



In a remote village, a teenager is caught tying and tickling a young lad in a barn. The Constable devises a very fitting punishment for the offender, in the village stocks.



Members of a young Neo-Nazi gang are captured while vandalizing a peaceful neighborhood. The men of the neighborhood gather to administer some unusual punishment on the miscreants.



In a future, highly-mechanized society, a thief is tried, convicted and sentanced to a harrowing punishment in a correctional facility. Contains severe bondage, orgasm denial, and some remarkable tickle punishment. One of Eddie's best!



You've heard of a "whipping boy", a lad who is designated to receive punishment as a stand-in for royal children. The spoiled Prince Jerewar has a different kind of whipping boy, and he delights in seeing him take punishment. But when the opportunity for role-reversal presents itself, the boy takes full advantage.



In the not-too-distant future, youthful motorists convicted of speeding are sent to a secret facility for some extremely effective correctional punishment.



Dana, a high school wrestler, is caught on videotape having his way with an underage girl. He is trapped, humiliated, and forced to perform auto-sexual acts for the voyeristic amusement of a mysterious stranger. Meanwhile, his jock buddy Shane is kidnapped and tickle-interrogated by two guys in a van.



As punishment for angering a gypsy at a carnival, Spenser is put under a curse. He is doomed to be mercilessly tickled by friends and strangers alike, who all have the uncontrolable urge to TICKLE.



An arrogant homophobic guy is abducted, held captive, and punished with tickle torture and orgasm denial torture, until he mends his ways. Alfonso is at it again, with his own delicious blend of humor and torture, as only he can dish it out.



An historical shipboard story. A rambunctious young seaman is caught breaking the rules, and sentanced to an unusual punishment by his jovial shipmates.



On a secluded private island, a man is forced to oversee his wayward young nephew, who is forced to stay on the island with his uncle. When the boy's attitude and destructiveness get to be too much, the uncle snaps: he ties the boy up, and ponders a suitable punishment. A classic story from the pre-Internet days, written by an old acquaintance.



Ric is chronically late for work, so his boss devises an unusual punishment for him.
---
If you enjoy the authors' work, drop them a line.
They would love to hear from you!
---
e-mail: webmaster@ropejock.com
www.ropejock.com