Jack's Male Tickling Rack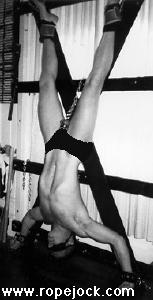 Endurance
Tickling
---
Ever been tickled to death?

How long did you last?

Did you give up?

Holler "Uncle"?

Beg him to stop?

(what a wuss!)

Or did you tough it out, winning the "game" and frustrating the hell out of the tickler?

Ever tie a guy into a really impossible position,
and then tickle him till he "lost it"?

These stories are about guys being tickled to... and beyond...their absolute limit.

If a guy is tough and cocky, "breaking" him can take hours and hours...



Dave's deliciously devious answer to the question, "How would you make me say 'uncle'?".



Partner Randy tests the author's considerable endurance in a loooong session. The clock is ticking. Will he "break"?



How much mind-numbing anticipation and feather-light tickling can a guy take before he goes insane? Author Dean attempts to go the distance.



The author lays out his diabolical plan to "break" a tough, cocky stud. How much could YOU take?



A great story of creative, inescapable, diabolical bondage, by the prolific Bondage Boy.



A first-person challenge. How do you "break" a tough, straight hockey player and make him root against his home team? Severe bondage, mind games, and extensive tickling. May the better man win...



The "published" and the "Internet" versions of the same story, back-to-back. Excellent, intense bondage. Can you stay perfectly STILL while being tickled? You move, you're screwed.



College freshman Tommy discovers a weakness about his new roommate, Bob. A stealthy attack with some rope gets Bob helpless, and the tickling "endurance test" begins. Will Bob hang tough, or will he give in and beg to be jerked off? A classic story.



Two tough guys in a brawl. The loser gets tied and gets his bare feet mercilessly tickled and tortured in a humiliating public display.



When a university cricket match gets rained out, the father, a Royal Navy captain who had come to see his son play, has other ideas to test his son's endurance. An explosive climax ensues, embarassing the surprised student.



A Russina peasant is selected to compete for his village in a tickle contest, the winner being selected to serve as a tickle slave in the royal chambers.



Caught cheating on an exam, a high school swimming jock is allowed to take a make-up exam, at the teacher's house. When the exam proves to be too difficult, the teacher proposes another kind of "test". A hot story about a jock trying to hold out and earn a passing grade.
---
If you enjoy the authors' work, drop them a line.
They would love to hear from you!
---
---
e-mail: webmaster@ropejock.com
www.ropejock.com