Jack's Male Tickling Rack
Military
Tickling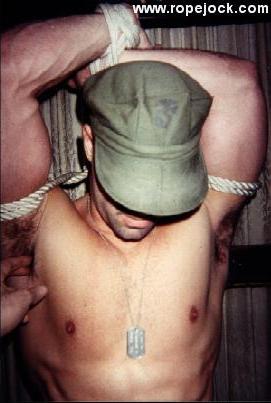 ---
Soldiers. Sailors. Marines. SEAL's. Flyboys.

Our boys in uniform get what's coming to them.

The following stories all have one thing in common:
Military guys being tickled or tickling other guys.

NOTICE:
This section of The Rack is not intened to show any disrespect for the guys who protect and defend us. The webmaster has the utmost respect for those who serve their country.

Warning:
Many of the following stories depict military men getting sexually teased and tortured.
If you do not wish to read this material, please go elsewhere.
Barracks horseplay: a soldier who never showers is tackled and given a ticklish scrubdown in the shower room. A classic story from the old days.



A soldier volunteers to be a test subject for a secret new military interrogation machine. The story cuts back and forth between what the soldier is going through, and the IHID Control Room.



Another classic story: at the end of basic training, a group of grunts ambush their hard-assed DI and work out their frustrations on him.



Click:

| | |
| --- | --- |
| Original Drawing | Published Drawing |

These original drawings by the renowned artist Etienne
were commissioned by Russ Miller, the author of the above
"Taft Tickle Torture" story, which was originally published in
Drummer Magazine.
These are brand new scans, taken from the original drawings.
A big thanks to Russ Miller for his permission to post these drawings here,
along with his classic story.





An ex-Navy SEAL helps a gay Marine get revenge on a homophobic USMC captain. Lots of tickling and orgasm denial torture.



At a British military academy, a rugby player is summoned to the Major's quarters for some afternoon tickle torture.



Military school horseplay, as a tickle-fiend discovers a weakness about his fellow student.






Settling an old grudge, the long, slow way: A USMC colonol with a...personal problem, needs the help of an enlisted medic. A wild scene of medical shenanigans and cruel torture. Just the way we like it.



An involved shipboard story of doublecrossing and revenge. A sailor who is about to be "outed" by some homophobic officers gets the upper hand and blackmails them. Don't Ask, Don't Tell.






The first part of a steamy story about young lads during World War II. They are just exploring their sexuality for the first time, and they are practising their torture techniques on their elders. In Glaucon's inimitable raunchy style.



Straight, non-sexual tickling as a matter of course and recreation in a British military family.



The military escapades of an extremely ticklish new recruit. An intense story of tickle - endurance, training and interrogation. Thanks, Ratty, for finally finishing this one!







---
If you enjoy the authors' work, drop them a line.
They would love to hear from you!
---
---
e-mail: webmaster@ropejock.com
www.ropejock.com