Jack's Male Tickling Rack
---
Let the games begin!



Preliminary tickle-endurance challenge tests determine which opponent goes "down" for the extended tickle torture.



The infamous contract. No "escape" clause.



Two fun pastimes: "Toe-Wiggling" and "Hide The Note".



Joe devised the diabolical game, and Calvin "did the math", figuring out the odds.



Rules for a proposed grappling match.



A new use for your old set of dominos.



A challenge for an interrogation game.



Rob relates his experience as a "contestant" at a real-life MTMTN gathering.



Ratty shares some of his best tickle games. Is he really throwing these away? Quick! Someone send him some new ones!



Two ingenious games to play with your ticklish straight buddies. All ya need is some restraint equipment, a deck of cards, and a good thick gag!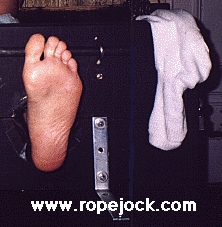 ---
If you enjoy the authors' work, drop them a line.
They would love to hear from you!
---
e-mail: webmaster@ropejock.com
www.ropejock.com