Jack's Male Tickling Rack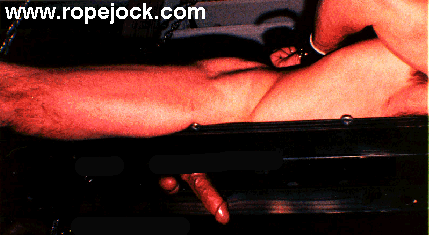 Cum Control
---
The two most prevalent forms of controlling a guy's orgasm are "denial" and "milking".

"Orgasm denial", as in tying a guy down and manipulating his penis so that he is NOT QUITE able to shoot his load, often for hours (days?) at a stretch.

Some guys define "milking" as merely stroking a guy off, usually taking your damn sweet time about it.

My definition of milking is: forcing a guy into repeated ejaculations, usually against his will (well, at least, after the third or fourth time, anyway).

A buddy of mine has defined "milking" as, simply:
"involuntary seman extraction by hand or machine".

Denial and milking are often a major part of M/M tickling sessions.

The following stories explore various aspects of this excellent method of male torture.

Many other stories collected on this site also deal with aspects of orgasm denial. Look around and you will find them. (Hint: look for the words "denial" or "control" in the introductory blurbs.)

Several of these stories do not contain any tickling, but because the subject is directly linked to tickle torture, I wanted to collect and share some of the best:
A beginning: a terrific story about two guys experimenting with torture games.



In this classic story, a curious straight buddy is introduced to intense bondage, tickling and orgasm denial.



Eddie's infamous fantasy story about life in Hell.



Playing out a universal fantasy: drugging, binding, and testing the self-control of a haughty, muscular Adonis.



A well-written historical story of a royal poet who receives an exotic gift: an eerily "talented" young lad.



On a tour of his torture chamber, a bored king stops to torture a young slave, who must exert maximum self-control, or risk plummeting to his death.



A true account of a recent session with a horny muscleboy.



Straight buddy Bob, laid up in the hospital with two broken arms and unbelievably horny, is unable to...relieve...his aching nuts by himself. The mischievous author pays him a visit and, remembering how ticklish Bob was as a kid, offers to help him out. After all, what are friends for?



A horny, ticklish straight guy shows up at Dr. Johnson's office for a routine physical examination. Prescribing an ejaculation to relieve the guy's swollen testicles, the sadistic doctor dispenses a laboriously slow "treatment".



A bisexual college basketball jock answers an ad and meets a bondage topman. The jock, who has fantasized about being restrained and jerked off, is very nervous. He has every right to be!



A short "quickie" from Eddie, about a farmhand's daily "milking" chores.



A small group of gay college boys have their eye on Mark, a goodlooking, straight jock fratboy. When Mark insults them in the locker room, the boys take their revenge by kidnapping Mark, tying him up, and teaching him about gay sex, orgasm denial, and milking torture. (This is a re-written version of a story that has appeared elsewhere on the Net.)



Straight young married guy Sam, home alone, admits some local teens into his house. The horny, sadistic teens overpower poor Sam, tie him up, and tickle him until he shoots a load...again and again and again. A classic tickling/milking story.



That group of horny gay college boys is at it again. This time, their prey is Steve, a hot, goodlooking straight wrestler. They guys get Steve drunk, ambush him, tie him up, and introduce him to the "pleasures" of tickle torture, erotic pain, orgasm denial, and milking torture. The author has re-written this story especially for The Rack.



A cocky straight stud gets the tables turned on him by two diabolical intruders. The muscular guy gets double-teamed but good, including spanking, bondage, humiliation, forced sex, tickling...and prolonged orgasm denial.



The straight younger brother of a college roommate is forced to accept a drunken wager by a group of horny gay college dudes. Will they be able to force him to shoot his load? How many times? (This is a re-written version of a story called "Straight Steve Is Made To Cum").



Young Craig answers a flyer for a part time job, and gets trapped in an "endurance test" as part of the job interview. How many loads will he be forced to spill before he lands the job?



A straight, gay-bashing mafia hunk gets his cum-uppance at the hands of two gay guys who have felt the sting of his "protection" racket.



A mean-spirited fraternity prank results in a 19-year old frat boy being kidnapped and punished by a mysterious, vengeful man. Elaborate bondage, sexual torture, severe orgasm denial, anal torture, the Rack, forced milking, tickling machines, and potent gels are combined in this awesome story.




Blue-Blooded Health Club Studs Given Blue Balls ~ by Richard

After-hours payback in a deserted health club. Multiple victims are targeted and videotaped. The Hispanic watchman gets delicious revenge on a rude, bigoted personal trainer. And a vacationing executive corrals and abuses an arrogant straight stud.




Dr. Gumm ~ by Franco

A football player must submit to an exam by Dr. Gumm in order to be allowed to play. With the coach's assistance, the two men put the young jock through hell! He's not called "Dr. Gumm" for nothing.



With the promise of a cash payment for his services, a horny guy submits to testing out a mad doctor's latest screwball invention.



A group of precocious, horny Little Leaguers trick baseball star Ken Griffey into getting tied up. The kids proceed to tickle, tease and torture the hunk until he is out of his mind. He eventually scores a "home run", a forced play.



An intense, run-on, stream of conscious piece, about a young jock who gets talked into being tied up by his jock buddy for some "endurance training" and discipline. Once tied, the poor guy is milked and milked and milked until he is losing his mind. A wild story of repeated, forced ejaculations.



This story is based on the drawing, "Milking The Bull" by Franco. It explains how and why the young guy is tied up with that machine on his penis, and what happens to him when a lab assistant takes advantage of his helpless situation.



A young guy is lured into trying out a new arcade game by a mysterious promoter, with the promise of a prize for being a test subject. The new electronic game is called "The Milk Shooter".



An exercise in prolonged orgasm denial torture.



A challenge between buddies results in a "to cum or not to cum" competition, with the victim tightly strapped to an evilly-modified barber's chair. A truely imaginative story, which plays right into your webmaster's fondest fantasies.



Paying a visit to a strict guy who is known for tying guys up and jerking them off - slowly.



Two straight wrestling buddies, cheating with tickling, challenge each other to hold out against forced hand-jobs and not to shoot their loads.



Tired of losing their wrestling matches, a buddy tricks the author into a tough bondage position and masterfully works him over. My kind of wrestling match!



A creative, competitive jerk-off game played with a deck of cards, with "stiff" penalties for the loser.



Waking up securely tied down to a bed, the author experiences repeated forced milking at the hands of an expert.



A horny young lad's hard penis need management and control. Special thanks to Glaucon for permission to post this story, actually written as a segment of his "Asylum" series (see the "Clinical Tickling" section of this website).



An older brother exacts some painful revenge on his tattle-tale younger bro by tying him up and jerking him off - repeatedly.



A remarkable story of severe, prolonged teasing and orgasm denial used as an interrogation tool against a proud warrior. This story was inspired by this Oliver Frey drawing featured below in the "Cum Control Drawings" section.



A very creative, intense story about trapping an executive in a set of stocks and a chair, and mercilessly teasing and tickling him, and not only his feet! The story was inspired by the set of photos, Executive Tickle Torture Machine by ExecTickler in the "Tools of the Trade" section of this website.



The ultimate in orgasm-denial torture. A young man is bound in a devious position and kept from release by some extremely sophisticated methods.



At last, Eddie has written a sequel to his popular story, "The Wall" (see above). This picks up where the last story left off, with the poor victim being teased and tortured out of his mind with severe orgasm denial.



Some of the best artists around share their visions of milking machines, genital tickling, and forced j/o. Thanks to Franco, Joe T., Malex, and the other fine artists.



Some pictures from Jack's bondage playroom, showing guys who want to shoot real badly.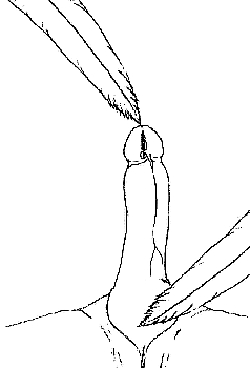 ---
If you enjoy the authors' work, drop them a line.
They would love to hear from you!
---
e-mail: webmaster@ropejock.com
www.ropejock.com