Jack's Male Tickling Rack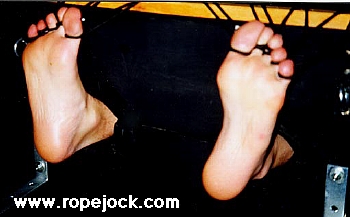 True
Tickling
Stories
---
First-hand accounts of actual tickle sessions.

There are many other true stories
scattered around the site
in different sections.
Look around and you will find them.

Want to share yours? Submit them.
Bondage, fingers and feathers break down the author's resistance in a hotel room encounter.



An exhausting night at the Philly Bondage Club.



An excellent account of binding a muscular hunk to his hotel room bed, and relentlessly tickling his helpless body.



The author's experiences with the old blanket routine.



Dorm room wrestling and tickling encounters with tough-guy buddy, Mike, and the none-too-gentle Gary.



Anticipation: a brief account of what goes on at the beginning of a Bondage Club meeting.



After answering an ad, a married man spends an exhausting evening trapped in the back seat of the devilish author's car.



Cute young Michael is "kidnapped" at the airport, blindfolded, bound, and mercilessly tickled by two partners in crime.



A symmetrical double-attack on the hesitant TJ, who reluctantly submits to an hour of bondage and tickling.



Two buddies gang up on a third for some hot wrestling, tickling, licking, and spunking.



"True Tales of Tickle Torture!" In this extended memoir, the author mixes wild flights of fancy with actual tickling sessions as he desperately tries to maneuver the males in his black foster family to PLEASE tickle him. Parts VI and VII of the story have recently been added.



Kids at play: poor Billy gets trapped in a barrel and suffers through a claustrophobic tickle attack by an evil "villain".



A scary story of an unexpected encounter with a possibly dangerous foot fetishist and tickler.



Lando and Dave pile up on a ticklish buddy and put him through some hell.



An excellent story about a plan to subdue and tie up a hot buddy. But the plan backfires and the tables get turned.



After reading some stories here on "The Rack", a straight guy decides he wants to try out the tickling scene. Two Aussie partners are more than happy to help him explore tickle torture at its most fun and intense.



Two hot cyber-buddies finally meet in an L.A. hotel room for some extensive footwork and mutual tickle torture, and the sparks really fly.



The author recounts a harrowing experience at the hands of the school bullies.



A new co-worker comes over to watch a game, and ends up tickling his host senseless.



A "command performance" story, ordered to be written by Erik, about a recent tickle session. Written by the bottom, from Erik's point of view. (Also read Erik's stories on The Rack. See his listing on the "Author Index" page.)



Dtuc is at it again, with stories about getting out-of-control inebriated and falling prey to ticklers. Hey Dtuc, ever hear of "AA"?



Dear, sweet, gentle, kind Ratty, always ready to go the extra mile to help a buddy in need. In this case, he tricks a swimmer into coming over for an armpit shave, but of course, he doesn't stop there!



A connection over the Internet leads to a meeting in a hotel room. After tickling the crap out of his new buddy, even before the ropes come off, the tables are turned and the author falls prey to revenge tickling.



Oh, the hell of rooming with an abusive, straight rugby player. But revenge can be sweet, if you manage to get him tied up while he's sleeping. (Includes some sexual interplay with an unwilling straight guy.)



Coming home after a sweaty game of tennis, a guy with an armpit fetish gets the drop on his sexy straight roommate. Tickling, erections and spurts ensue.



For all you guys who are interested in ticklish dads, here is a fond remembrance of a very ticklish father and his weekly ordeals.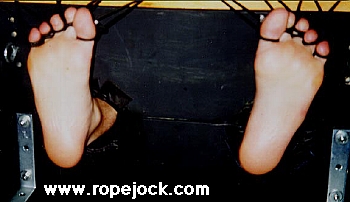 Can you guess which author these belong to?
---
If you enjoy the authors' work, drop them a line.
They would love to hear from you!
---
e-mail: webmaster@ropejock.com
www.ropejock.com