Jack's Male Tickling Rack
Tickle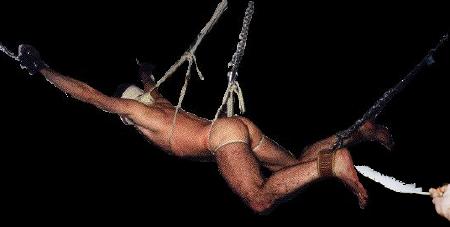 Adventures
---
Strange Tales,
Unusual Situations,
The Great Outdoors,
Group Gang-Ups,
Wild Fantasies,
Futuristic Settings...
or just plain Unclassifiable Stories:
Two hikers get ambushed in a deserted cabin and find themselves in an unbelievable position.



Camping out in the woods with a straight buddy, who knows what might happen? Or how he might pay you back! A classic story.



A straight, conceited business associate falls for the old "handcuff escape" trick. Bondage, tickling, and a couple of "squirts" can do wonders in altering a guy's cocksure attitude. (Also known as "Vendor Negotiations".)




If The Shoe Fits ~ by Rob Cline

After-hours "customer service" in a shoe store.




The Flier ~ by Erik

A college student responds to a flier advertising a free podiatrist exam, and suffers the surprising consequences.



Attending a Leather Convention, you are attacked, hooded and restrained. When the hood comes off, the tickling commences. Who is behind this attack?



A clever "He Said / He Said" account of a tickle session begun over the Internet, and concluded in real life.



A late-night phone connection, a penthouse apartment, a secret drug, an unexpected turn of events.



If you were to lurk in a chatroom for M/M tickling, you might witness a creative cyber-tickling session like this.



Puppy love from an admiring young boy blossoms into tickling, bondage, tickle torture, and a memorable session in the stocks. Man/boy tickling handled beautifully by a master tickler.



Aggressive foreign-exchange student Carlos and his buddies Billy and Trent wrestle, torment and tickle poor Zack while his parents are away for the weekend.



An e-mail connection inspired this account of a possible hot tickle session in the Florida keys, including some devious cock-teasing with a feather.



A week-long hunting trip in a secluded lodge gives practical-joker Scooter plenty of opportunity to pull some malicious pranks on his hunting buddies. When they finally wise up, Scooter pays the piper. But guess who dishes out the last laugh?



Hired to build the sets for an S/M porno film, a techie discovers he is left alone with the hunky star of the film all strapped up in a leather sling. Well, what would YOU do?



A mystical fantasy story, part of a full-length novel. Mark, a descendant of a royal family, wills himself to a long-lost land, where he befriends a young prince. The lads discover they are both ticklish, and hot, give-and-take challenges ensue.



A ripe and raunchy classic: Jake, a sweaty, horny college jock, is overseen whacking off to his own sweet smell. Now his roommate knows just how to give the ticklish Jake a hand. A friendly offer of a massage leads to explosively funky tickle torture.



A hypnotic fantasy: ticklish Mark is hypnotized into thinking he is tied up, and the "Master" now commands his every reaction, including if and when he is allowed to orgasm.



A hospital patient is knocked off his crutches by a clumsy orderly. As punishment, the ticklish orderly is tied to the patient's bed for some expert tickle torture.



Pro Wrestling at its kinkiest: a down-on-his-luck wrestler is tricked into a televised match with a lunitic who tickles his opponents into submission. A classic tickle/wrestling story.



While driving cross country, two straight construction worker buddies get waylaid in a small, surreal town. They are set upon by ghosts, mysterious strangers, and a kinky female host, all who delight in binding and tickling the two hunks, using some very creative methods!



While friend Davey is asleep, Lando ambushes him, ties him up, and begins a very creative tickling and foot fetish scene. When Davey wakes up, Lando uses some fantastic tickle techniques to torture poor Davey and to bring the session to an explosive conclusion!



Four friends play an exciting game of pursuit and capture. The three captured players are tied and put through agonizing foot-licking and tickling.



A volunteer worker at a Halloween haunted house attraction allows himself to be tied to a torture rack for the amusement of the spectators. "Amusement" is right!



Showing up for a tattoo session, the surly Nick is paid back for his unpleasant nature by the tattoo artist. Bondage and tickle torture lead to mutual gratification for the hot studs.



When his younger brothers capture and cuff the tall, goodlooking Andy during a game, a next door neighbor takes advantage of his predicament, eventually leading him to a climax.



An interesting, gentle tale of a new prison guard who is assigned to watch over a restrained prisoner. When the prisoner cannot fall asleep, missing his father and the way he used to tickle him to sleep at night, the guard obliges.



A hospital worker meets a hot new intern, who accidentally discovers his secret tickling fetish. When the intern finally discloses HIS male/male wrestling fetish, a hot and heavy match ensues.



A futuristic story about the invention of an ultra-sophistocated tickle torture machine, and the buddies the inventor subjects to it. But sometimes, the creation turns on the creator. (The references to this website, still going strong in 2099, make me chuckle. Thanks for the plug, TcklshTxn!)



A summer job in "Haunted House" attraction puts Cory in a ticklish situation.



A first-person telling of a first-time bondage and tickling session.



Tickle voyerism through a hole in the wall gives the author a good show (and some ideas of his own).
---
If you enjoy the authors' work, drop them a line.
They would love to hear from you!
---
e-mail: webmaster@ropejock.com
www.ropejock.com